Upgraded Large Rifle Safe 6 Gun Storage Cabinet External Battery Pistol Lock Box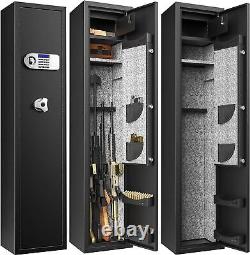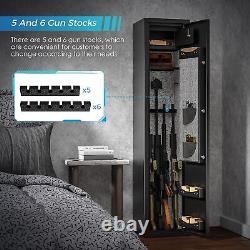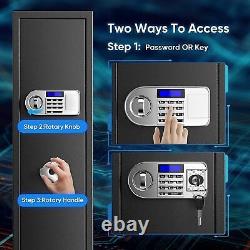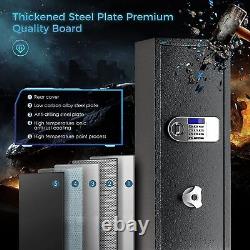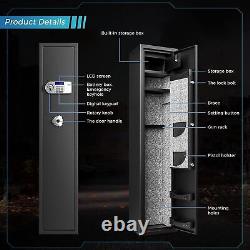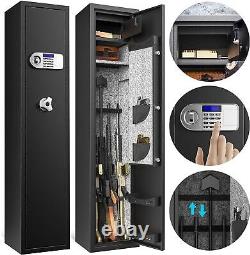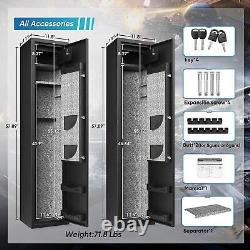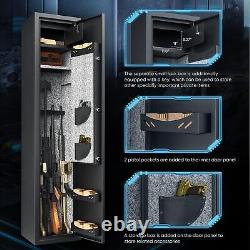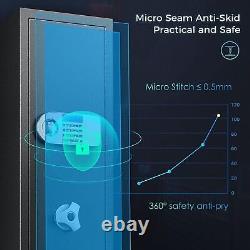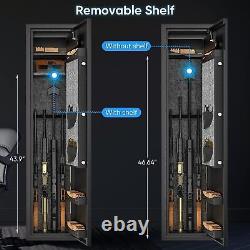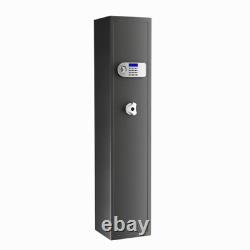 DIOSMIO 6 Gun Safes for Home Rifle and Pistols, LCD Rifle Safe 2 Racks Wall Mounted Upgraded External Battery. With Pistol Clip Storage Box. Newly Upgraded External Battery Box, LCD Screen, Two Ways to Quick Access. This DIOSMIO gun safe solves the pain point that the gun cabinet cannot be opened due to the loss of the key, dead battery.
The battery box is set as an external mode, and the battery can be easily replaced outside when the battery is dead. LCD display not only looks beautiful but also prompts the power and password. You can quickly open the gun safe with a password or an emergency key. Large Capacity-5/6 Guns, Removable Shelf.
The size of this rifle safe is 11.81156.9in, and the weight is 71.8lbs. The super large capacity can hold up to 6 rifles, and you can replace 5 or 6 gun racks according to your needs. The internal shelf can be disassembled or its height can be adjusted up and down.
When the rifle height is higher than 44, the shelf can be disassembled. When the rifle height is lower than 44, the partition can be installed to store bullets, ammunition and other gun accessories.
2 Pistol Bags, 3 Storage Boxes, Separate Lock Box. A small lock box with the size of 11.8 11 8.27in is additionally set above the gun safe. The key of the lock box is separated from the key of the safe, which can be used to keep important private things. 5-Layers Reinforced Steel Structure, 3 Re Locking Mechanism, Micro Seam Anti Prying. Wrong Password Alarm, Easily Install, 24 Hours After-Sales Service.
We have a 24-hour online customer service. If you have any questions or have any questions, please contact me at the first time. Exterior Dimensions: 11.81157.09inches. Interior Dimensions: 11.69.855.12inches. Password Length: 3-8 Digit Master Code.
Requirements for Battery:4 NEW AA Alkaline Batteries (not included in the box). Gun Rack 2 (5 Guns/6 Guns). Keys 2 (contains the key of lock box). 2 pistol bags are equipped on the door of the gun safe, which can store 2 pistols.
3 storage boxes are configured to store bullets, ammunition, gun accessories etc. A small lock box is additionally set above the gun safe, which can be used to keep valuables. Compared with the old gun cabinet, the old one needs to open the gun cabinet to replace the battery.
However, there is a problem that sometimes the battery suddenly runs out of power. Unless you use the key, you cannot directly use the password to open the gun cabinet.
To solve this problem, this gun cabinet has the battery box set outside, so you don't have to worry about the battery running out. When the length of the gun is more than 43.9 ", the partition can be removed, and when it is less than 43.9", the partition can be installed to store bullets, ammunition, bullet boxes, etc. This gun safe can hold 5-6 guns. The package includes a rack with 5 guns and a rack with 6 guns, which can be replaced according to your needs.
Let DIOSMIO Gun Safe Keep Your Guns Safe! Your kind consideration is highly appreciated. If your item has been damaged in transit or. Please check everything carefully after you receive the parcel, as any damages except DOA (Dead-On-Arrival) are not covered if it's the fault of the consumer.
Our 30-day Satisfaction Guarantee assures our customers that they will receive all orders promptly and exactly as described. Parts must be resaleable and in the original packaging. We cannot take back used products.
We cannot take back installed or tired products. We do reserve the right to refuse and return any parts we find have been installed, are used or do not meet the above criteria. Return request need to be within 30 days of receipt.
If for some reason there is. As an emerging leader in manufacturing and exporting, we specialize in Business and Industrial Products, Sporting Goods, Pet Products, Home and Garden products for over 10 years. It is our mission to provide innovative products and competitive prices to satisfy you.