Storage Organizer Cabinet Pistol Rifle Gun Safe Display Hook Shelf Firearm Rack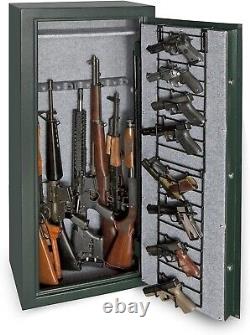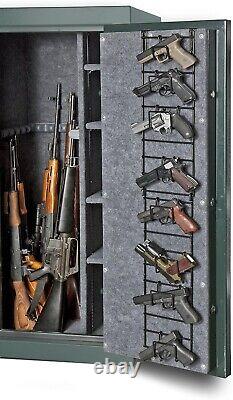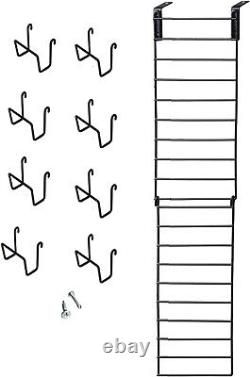 RACK ONLY, SAFE IS NOT INCLUDED. Hold more guns in your safe with this adjustable rack, secure & damage free. Easily find & access guns - see entire collection in one view. Hooks adjust on wire grid to avoid shelves & stanchions. Pistol hooks can be customized to fit each gun by gently bending wires closer or further apart.
Fits all safe doors with a ledge 3"W x 12"L minimum. Installs in 15 minutes or less. Does not affect safe fire ratings - mounts inside of safe away from fire gasket. Heavy-duty steel construction with soft rubbery coating; does not collect moisture & protects finish on firearms (similar to a dishwasher rack). 8.75"L x 2.4"W x 48H.
Racks & hooks only - safe & firearms not included. Position & tape rack onto the top door ledge of safe - as close to the hinges as possible. Use heavy duty tape you trust with your guns. Place pistol hook on the top wire farthest from the hinge.
Put an unloaded gun in this hook & be careful it doesn't fall. While checking to make sure the gun does not hit the safe, slowly close the safe door.
Move the position of the gun & hook until it clears. Place the next pistol hook on the top wire closest to hinge & repeat step 4. Note: If gun hits top shelf inside the safe, lower shelf until it clears, or put gun in trigger facing up. Items may need to be moved back on the shelves to allow room for the pistols. When satisfied with the position of the rack, drill through the tape into the top ledge of the safe with an 1/8 drill bit, making a pilot hole for the mounting screws. Screw the mounting screws through the tape & rack into the safe. Continue adjusting pistol hook positions with unloaded pistols to miss interior shelves & stanchions.
Bend pistol hooks tighter or looser to fit each gun. Bend left or right to fit binoculars, jewelry pouches, etc. Depending on your safe's interior layout, rack may not hold all the firearms it is capable of. To increase capacity, rearrange the interior or trim rear of shelves & stanchion.