Rifle Gun Safe, Digital Password 5-Gun Storage Cabinet for Rifles and Shotguns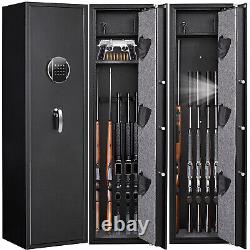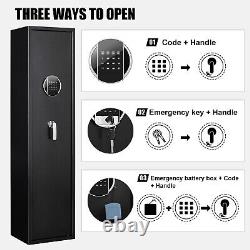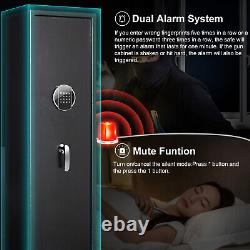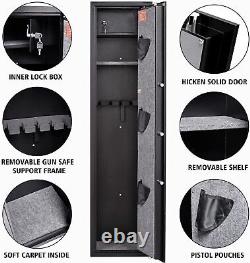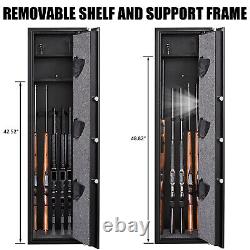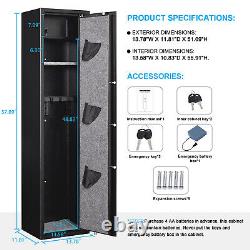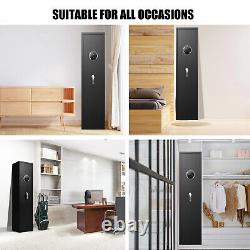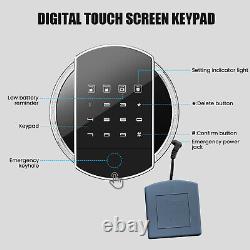 QUICK ACCESS RIFLE GUN CABINET? The numeric keypad allows you to program this electronic rifle safe with your own password for quick access to firearms in an emergency.
It can store 2 sets of digital passwords, and the code memory function ensures that your code will not be lost when the power is exhausted. This helps prevent unwanted visitors from using your firearm. BIGGER AND DEEPER RIFLES SAFE? Larger and deeper home rifle safe than similar products, can hold almost 5 rifles up to 50 inches long.
The long gun safe interior features a soft foam barrel holder and carpeted floor to protect your gun. External Dimensions: H57.09D11.81W13.78in. Internal dimensions: H55.91D10.83W13.58. ANTI-TAMPERING ALARM SYSTEM AND MUTE MODE?
If the wrong password is entered three times in a row, the alarm will last for 60 seconds. At the same time, if the gun safe for rifles and shotguns is moved violently, it will trigger a vibration alarm. During the alarm period, you can enter the password to open the door to cancel the alarm. You can turn on mute function if you don't want the safe to make a sound.
LOCK BOX AND REMOVABLE STORAGE RACK? If your rifle is less than 43.3 inches long, a removable storage rack can be installed, which can store your pistol. BACKLIT DIGITAL TOUCH SCREEN KEYPAD AND LED LIGHT? The gun storage cabinet features a digital touch-sensitive keypad, utilizing advanced capacitive sensing technology that provides enhanced sensitivity and precision. Additionally, the password long gun safe utilizes a backlit keyboard and built-in LED lights to precisely enter the code in low light conditions without the need for additional lighting, allowing quick access to the gun even in critical situations.
1 x rifle gun safe, 2 x spare keys, 2 x inner cabinet keys, 5 x expansion screws, 1 x emergency battery box, 1 x instruction manual. If your key is lost and cannot open your safe, and we will provide lifetime key matching service.