Large Rifle Safe Quick Access 5-Gun Storage Cabinet with Pistol Lock Box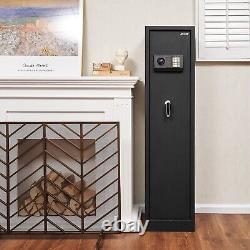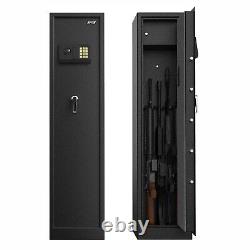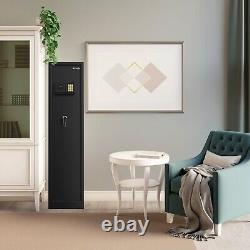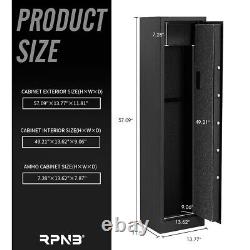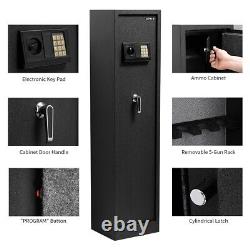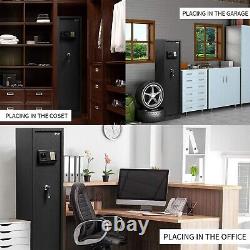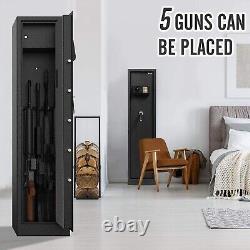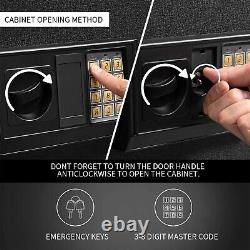 RPNB Rifle Safe, Electronic Gun Security Cabinet, Quick Access 5-Gun Large Metal Rifle Gun Security Cabinet. Description: RPNB Safe offers a variety of different safe sizes with a comprehensive line of vaults, portable safes, gun storage accessories. We manufacture specialty safes and gun boxes that can be stored in drawers, in vehicles, under desks or on walls. RPNB Safe products are going to help deliver peace of mind by protecting you, your family and your belongings against damage. RPNB Safe delivers security exactly where you want it.
Interior Protection:Ensure security and protect your weapons and valuables from scratching or damage. Sturdier Construction:Higher Level of Security for Your Firearms. 5 live-door bolts and pry-resistant concealed hinges provide a high level of security and reliable strength to help prevent intruders from entering the safe. Incorrect Entry Warning:For your security, the yellow light will light up with beeps if 3 incorrect entries are made, and the safe will time out and sleep for 20 seconds. Use the separate Backup Keys for Ammo Cabinet.
Interior Dimensions: 7.28"×13.62"×7.87. 100% satisfaction guarantee: We are committed to business integrity quality after-sales guarantee.
Exterior Dimensions: 57.09" x 13.78" x 11.81(H×W×D). Interior Ammo Cabinet Dimensions: 7.28" x 13.62" x 7.87(H×W×D). Interior Remaining Dimensions: 49.21" x 13.62" x 9.06(H×W×D). Item Weight: 99.2 LBS. Password Length: 3-8 Digit Master Code. Requirements for Battery: 4 NEW AA Alkaline Batteries (not included in the box). 1 x Gun Rack(5-gun). 2 x Backup Keys for Safe. 2 x Backup Keys for Ammo Cabinet.
4 x Mounting Anchor Bolts. 1 x Owner's Manual.