Large Rifle Safe Fingerprint Quick Access 5-6 Gun Storage Cabinet with Pistol Box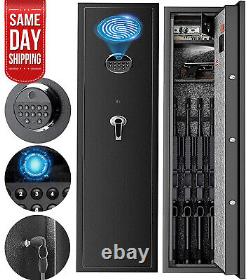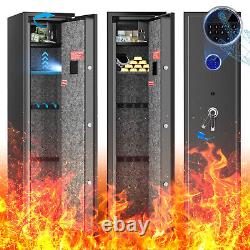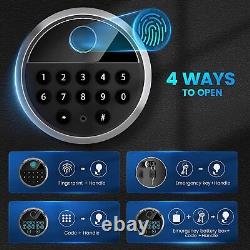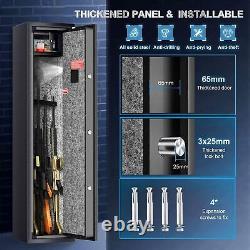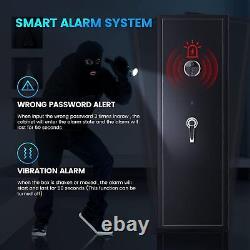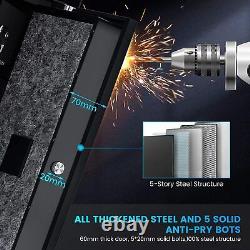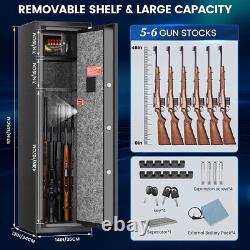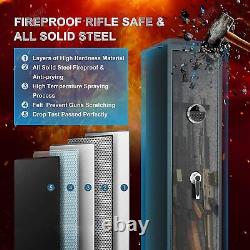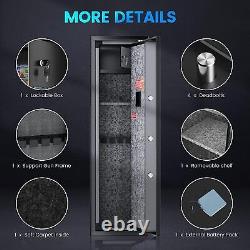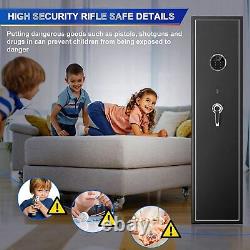 Biometric Rifle Gun Safe, Quick Access Fingerprint Long Gun Safe, 5/6 Gun Metal Rifle Gun Security Cabinet for Rifle with/without Scope with Separate Handgun Lock Box. This rifle gun safe can use. To quickly access the guns, and can also use.
Diosmio uses reinforced solid steel and anti-corrosion coating to design this rifle safe. The interior uses a reinforced steel structure. Provided 2Rack for 5 Rifle or 6 Rifle storage.
The outer box size of DIOSMIO rifle gun safe is 561211.4, which also provided 2 Racks, can hold 5/6 rifles within your choice. Removable storage shelf allows you to maximize the use of the space in the safe. A seamlessly welded solid steel body, Pre-drilled holes and hardware for floor-mounting, Suitable for installation in various locations in the home/office.
Rifle safe has a removable storage shelf inside, the removable storage shelf can be installed if your rifles are less than 43.5 long, it can store your handguns. Optional silent mode and wrong access alam.
For stealthier home defense, just activate silent mode. The Rifle Safe emits a warning tone when wrong entery for 5 times. If you enter the wrong password 5 times in a row, the gun safe will automatically alarm.
If the thief wants to move the rifle safe, the gun safe will sound an inductive alarm. Separate lockbox for handguns and The lockable box (keyed) inside the safe is in big bonus. 5 Security Deadbolt(3 on the side, 1 top and 1 bottom).
Its 5 built-in steel deadbolts create a 5 point locking system that resists prying, locks out thieves, and keeps your firearms away from your kids. Mounting Hardware Set x 1. Quick Access Biometric Rifle Safe? Diosmio Rifle Safe stores up to 6 rifles and 2 handguns, is designed for quick firearm access during emergencies. Stores up to 30 Fingerprints and feel confident protecting your firearms, It is good for preventing unwanted visitors or your children from accessing your guns.
With Biometric fingerprint safe, you no longer need to remember a combination or carry a key. Everything you need is right at your fingertips!
Larger and Deeper Rifle Safe? Larger and deeper rifle safe than similar ones, can store up to 6 rifles up to 50 long. It will fit your firearms if you have optics/scopes are attached or rail mount on top.
Deeper than those ones even less than 10, not deep enough for rifles with scopes. Interior features soft foam barrel rest and carpeted floor can protect your gun. Exterior Dimensions: 14"(w) x 13"(d) x 57(h). Diosmio Rifle Safe features 3 methods of securing and accessing your firearms. It's equipped with one-touch Fingerprint system and 9-digit keypad can be programmed, our safe also includes 2 emergency keys for quick access. Make sure keep the emergency keys out of your safe in case the batteries die. Lock Box and Removable Storage Shelf? Diosmio Rifle safe has a separate lock box and a removable storage shelf inside, The lock box can store accessories and valuables in your home or office. The removable storage shelf can be installed if your rifles are less than 42 long, it can store your handguns. Came with pre-drilled holes and mounting hardware. Pre-drilled mounting holes in the back and at the bottom of the gun security cabinet allow for easy attachment to the floor or wall (or both) with attached bolts. So you could freely attach it at anywhere you want, for example can be hidden in a closet, etc.