Large Gun Rilfe Safe Quick Access 5-Gun Storage Cabinet Metal Shotgun Gun Lock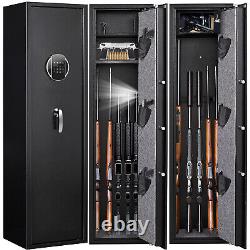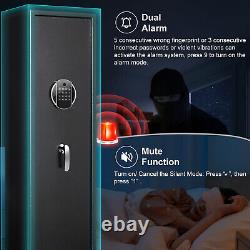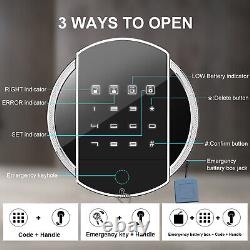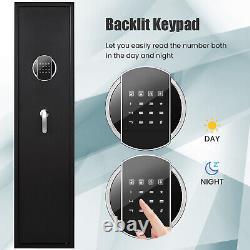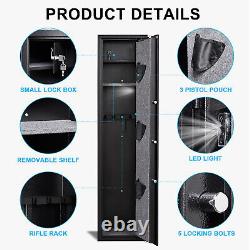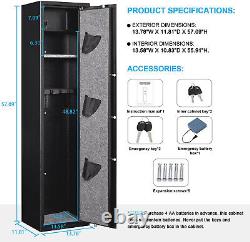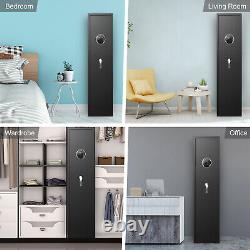 Large Gun Rilfe Safe Quick Access 5-Gun Storage Cabinet Metal Shotgun Gun Lock. The numeric keypad allows you to program this electronic rifle safe with your own password for quick access to firearms in an emergency. It can store 2 sets of digital passwords, and the code memory function ensures that your code will not be lost when the power is exhausted.
This helps prevent unwanted visitors from using your firearm. This gun Safe adopts semiconductor fingerprint identification system, 0.1s unlock, Which can be accessed quickly and accurately, And you can quickly open and access the gun cabinet when you need it most. And save you more time in time of danger. Store up to 20 fingerprints, Fully protecting your firearms.
Bigger and Deeper Rifle Safe? Larger and deeper rifle safe than similar products, can hold almost 5 rifles up to 50 inches long. The interior features a soft foam barrel holder and carpeted floor to protect your gun. External Dimensions: H57.09D11.81W13.78in. Internal dimensions: H55.91D10.83W13.58.
Anti-tampering alarm system and Mute Function? If the wrong fingerprint is inputting five times in a row, the alarm will last for 60 seconds. At the same time, if the gun cabinet is moved violently, a vibration alarm will be triggered. The alarm period, you can enter the password or fingerprint to open the door to cancel the alarm.
Unlike other safes, you can turn on Mute Function if you don't want the safe to make a sound. Lock Box and Removable Storage Rack? If your rifle is less than 43.3 inches long, a removable storage rack can be installed, which can store your pistol. Complete Accessories and 24/7 Customer Service?
1 x Rifle Gun Safe, 2 x Spare Keys, 2 x inner cabinet Keys, 5 x Expansion screw, 1 x Emergency battery box, 1 x Instruction Manual. If your key is lost and cannot open your safe, and we will provide lifetime key matching service.