Fingerprint+Keypad 5 Gun Rifle Storage Safe Box Cabinet Double Lock Quick Access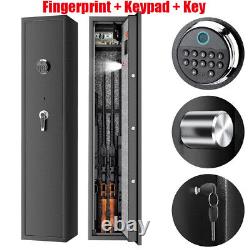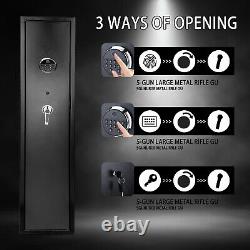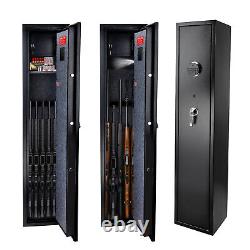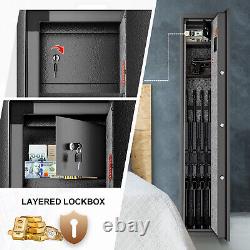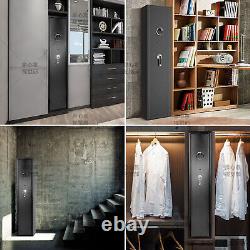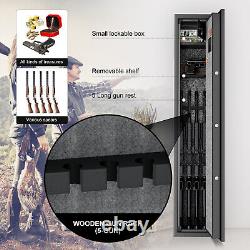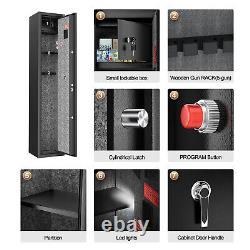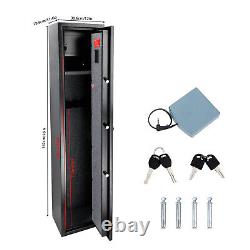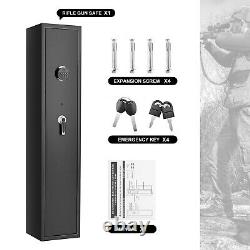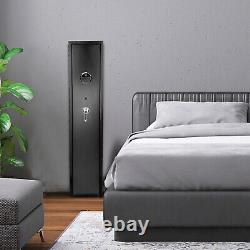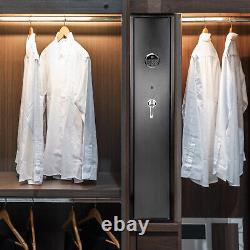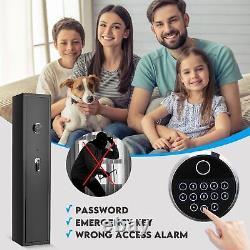 Fingerprint+Keypad 5 Gun Rifle Storage Safe Box Cabinet Double Lock Quick Access. Larger and Deeper Biometric/Electronic Gun Safe is perfect for anyone looking for a SIMPLE, SMART and BIG (deep enough for storing the scoped rifles) gun safe for rifles and pistols, this gun cabinet made of highly durable steel material, 7cm thickness steel door, features with 3 sides, total (5) 20mm diameter live-locking bolts offer physical protection from forced entry.
Keeping your rifles/shotguns/pistols out of the wrong hands or the children. The rifle gun safer box size of DIOSMIO is 56''12''11.4. The special design gun safe for rifles and pistols which contains 5 rifles easily as a cup of a cake. There is also a separate small lock box inside. The rifle gun safe armed with DIOSMIO updated electronic digital keypad lets you program your own pass code for quick arms access during emergency.
Rifle safe has a separate lock box and a removable storage shelf inside, The lock box can store accessories and valuables in your home or office. The gun safe for rifles and pistols will automatically alarm after entering the wrong password 3 times in a row. If you don't want any sound from the gun cabinet, you can activate the silent mode. The gun safe for rifles and pistols came with pre-drilled holes and mounting hardware.
6 pre-drilled holes in the back allow for easy attachment to the floor or wall (or both) with attached bolts. So you could freely install it at anywhere you want, for example can be hidden in a closet, etc. This safe box is in high strength and solid structure. Smart technology secures contents away from kids, and others. Three ways to open the door. The door can be opened by Fingerprint keyboard buttons and keys, which is very convenient and safe. It also has a separate lock box inside to store small guns and other valuables in your home or office. The safe will beeps and can't get access by PIN code if wrong access for 3 times. Adjustable Height And Removable Storage Shelf. So you are free to stick it anywhere you want.
Allows you to keep rifles, guns & ammo stored securely and quickly accessible (2.0 seconds quick access) with fingerprint scan or inputing your personal code(3-8 digit), the smart biometric chip can save 30 different unique fingerprints. Keep the emergency keys in a secure place away from children, and DO NOT store them in the safe.
The rifle safe must be secured to the floor or wall, avoid the rifle sloped to injure the child. Our high quality Biometric Module stores up to 30 fingerprints and is consistent and reliable. Allowing users to access their valuables in 0.1 seconds and has an optional silent mode.
When the door is open, press the setting button. Press your finger on the fingerprint collector three times within 6 seconds.
If the prompt tone "drip drip" is played and the LED green light blinks twice, the fingerprint setting is successful. Failed to record fingerprint because. Weak current situation, solution: change the battery. Finger peeling, solution: replace the finger. Simply return the item to us in 30 days in an unused condition.
But remember to keep the item clean, intact with all labels, or we won't accept your request. As an emerging leader in manufacturing and exporting, we specialize in Business and Industrial Products, Sporting Goods, Pet Products, Home and Garden products for over 5 years. It is our mission to provide innovative products and competitive prices to satisfy you.