DIOSMIO Large Rifle Safe Quick Access 5-6 Gun Storage Cabinet with Pistol Lock Box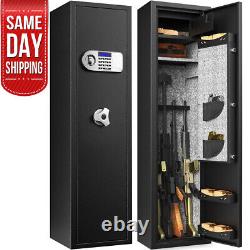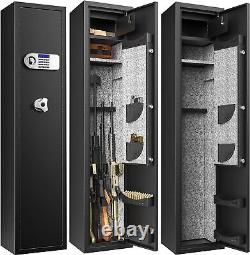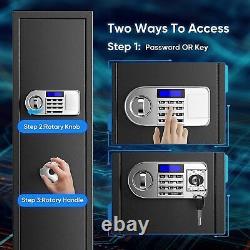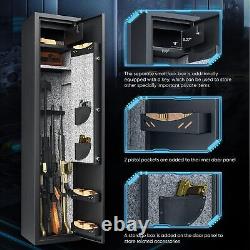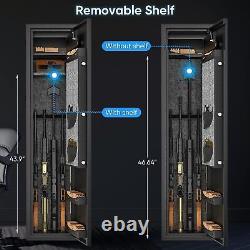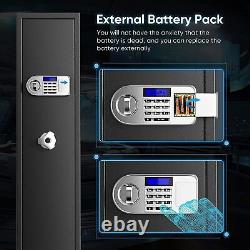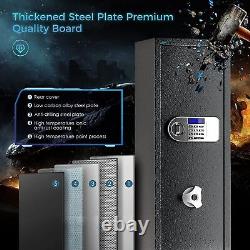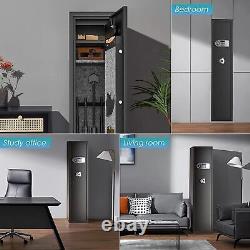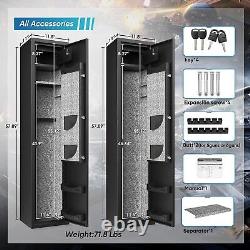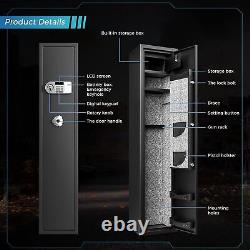 DIOSMIO Large Rifle Safe Quick Access 5-6 Gun Storage Cabinet w/ Pistol Lock Box. Newly Upgraded External Battery Box, LCD Screen, Two Ways to Quick Access. This DIOSMIO gun safe solves the pain point that the gun cabinet cannot be opened due to the loss of the key, dead battery.
The battery box is set as an external mode, and the battery can be easily replaced outside when the battery is dead. LCD display not only looks beautiful but also prompts the power and password. You can quickly open the gun safe with a password or an emergency key. Thicker carboard box and bumper corners on the package for enhanced durability during transportation.
Larger capacity and deeper inside than similar rifle safe, it can hold up to 6 rifles up to 47 long without scopes. You can adjust the storage space by adjusting the shelves. External dimensions:11.8"W x 11"D x 57.09H. Internal dimensions:11.6"W x 9.84"D x 55.12H. This rifle safe box is made of 3 live-door bolts and seamlessly welded pry-proof steel body.
The 1.2" thick door features 3 x 8" in diameter locking steel deadbolts system for additional security. There are 4 pre-drilled holes in the bottom and 6 pre-drilled holes on the back. You can mount it to the floor or wall using the included four mounting bolts. That will be more secure. You can program this gun cabinets with your own 3-8 Code for quick access to the guns when you really need it for home protection.
With the gun cabinet, It can keep little ones from being able to easily access guns and preventing unauthorized persons from accessing your guns. LOCK BOX & HANDGUN POCKET & BULLET BOXES? Rifle safe has a separate lock box can store documents and valuables, the handgun pocket will help you store 2 pistols and save more storage space! The Rifles safe comes with 3 ammunition bins on the door for storing ammunition, firearm accessories and more. SMART ALARM & HIDDEN CODE FUNCTION?
Entered wrong password 3 times, the lock will beep for 3 minutes. Only the emergency key can open the door to stop the'BEEP' sound.
If you do not want the password shown on the screen, just press the "START" button twice. Exterior Dimensions: 11.81157.09in.
Interior Ammo Cabinet Dimensions: 11.6" x 9.84" 8.27in(W×D×H). Interior Remaining Dimensions: 11.6" x 9.84" x 46.64(W×D×H). Password Length: 3-8 Digit Master Code.
Requirements for Battery:4 NEW AA Alkaline Batteries (not included in the box). Larger and Deeper Biometric/Electronic Gun Safe is perfect for anyone looking for a SIMPLE, SMART and BIG (deep enough for storing the scoped rifles) gun safe for rifles and pistols, Quick Access 6-Gun Large Metal Rifle Gun Security Cabinet Solidly built with 100% steel walls and tamper-resistant inner edges, the Electronic Rifle Safe ensures wall-to-wall protection that lasts.
The Safe allows you to keep up to 6 long guns and other accessories stored securely. Keeping your rifles/shotguns/pistols out of the wrong hands or the children. 2 pistol bags are equipped on the door of the gun safe, which can store 2 pistols.
3 storage boxes are configured to store bullets, ammunition, gun accessories etc. A small lock box is additionally set above the gun safe, which can be used to keep valuables.
Compared with the old gun cabinet, the old one needs to open the gun cabinet to replace the battery. However, there is a problem that sometimes the battery suddenly runs out of power. Unless you use the key, you cannot directly use the password to open the gun cabinet. To solve this problem, this gun cabinet has the battery box set outside, so you don't have to worry about the battery running out.
When the length of the gun is more than 43.9 ", the partition can be removed, and when it is less than 43.9", the partition can be installed to store bullets, ammunition, bullet boxes, etc. This gun safe can hold 5-6 guns. The package includes a rack with 5 guns and a rack with 6 guns, which can be replaced according to your needs.
Keep the emergency keys in a secure place away from children, and DO NOT store them in the safe. The rifle safe must be secured to the floor or wall, avoid the rifle sloped to injure the child. We are always working hard to ensure your package arrives as soon as possible.
Please provide a physical address. IT MAY TAKE UP TO 2 WEEKS FOR YOUR PACKAGE TO ARRIVE. WE WILL BE SURE TO GIVE YOU TRACKING INFO AS SOON AS OUR DISTRIBUTORS PROCESS YOUR ORDER.
WE WILL GLADLY RESOLVE ANY OF YOUR CONCERNS AND WE THANK YOU FOR YOUR UNDERSTANDING. We do our best to make sure every customer is completely satisfied. If there's ever a problem, message us! We're more than happy to help.