Diosmio Large Gun Safe 5/6 Rifle Storage Cabinet with Pistol Clip External Battery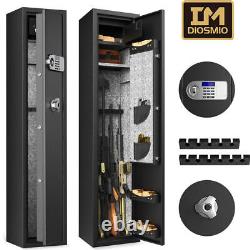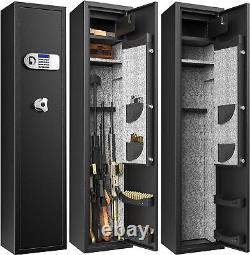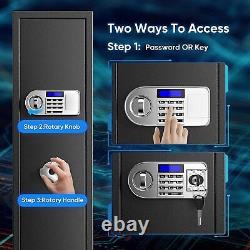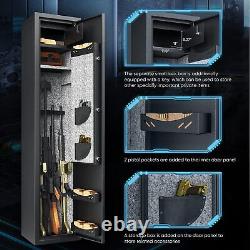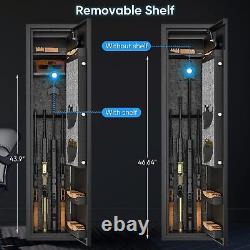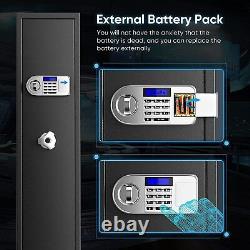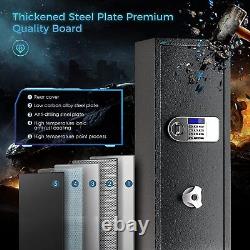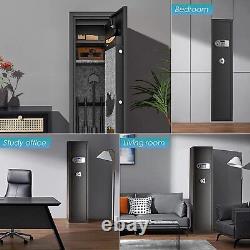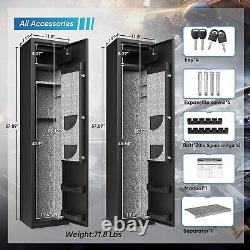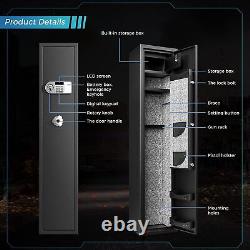 Diosmio Large Gun Safe 5/6 Rifle Storage Cabinet w/ Pistol Clip External Battery. DIOSMIO 6 Gun Safes for Home Rifle and Pistols, LCD Rifle Safe 2 Racks Wall Mounted Upgraded External Battery. With Pistol Clip Storage Box. Newly Upgraded External Battery Box, LCD Screen, Two Ways to Quick Access.
This DIOSMIO gun safe solves the pain point that the gun cabinet cannot be opened due to the loss of the key, dead battery. The battery box is set as an external mode, and the battery can be easily replaced outside when the battery is dead.
LCD display not only looks beautiful but also prompts the power and password. You can quickly open the gun safe with a password or an emergency key. Large Capacity-5/6 Guns, Removable Shelf.
The size of this rifle safe is 11.81156.9in, and the weight is 71.8lbs. The super large capacity can hold up to 6 rifles, and you can replace 5 or 6 gun racks according to your needs. The internal shelf can be disassembled or its height can be adjusted up and down. When the rifle height is higher than 44, the shelf can be disassembled.
When the rifle height is lower than 44, the partition can be installed to store bullets, ammunition and other gun accessories. 2 Pistol Bags, 3 Storage Boxes, Separate Lock Box.
A small lock box with the size of 11.8 11 8.27in is additionally set above the gun safe. The key of the lock box is separated from the key of the safe, which can be used to keep important private things. 5-Layers Reinforced Steel Structure, 3 Re Locking Mechanism, Micro Seam Anti Prying. Wrong Password Alarm, Easily Install, 24 Hours After-Sales Service. We have a 24-hour online customer service.
If you have any questions or have any questions, please contact me at the first time. Exterior Dimensions: 11.81157.09inches.
Interior Dimensions: 11.69.855.12inches. Password Length: 3-8 Digit Master Code.
Requirements for Battery:4 NEW AA Alkaline Batteries (not included in the box). Gun Rack 2 (5 Guns/6 Guns). Keys 2 (contains the key of lock box). 2 pistol bags are equipped on the door of the gun safe, which can store 2 pistols. 3 storage boxes are configured to store bullets, ammunition, gun accessories etc.
A small lock box is additionally set above the gun safe, which can be used to keep valuables. Compared with the old gun cabinet, the old one needs to open the gun cabinet to replace the battery. However, there is a problem that sometimes the battery suddenly runs out of power.
Unless you use the key, you cannot directly use the password to open the gun cabinet. To solve this problem, this gun cabinet has the battery box set outside, so you don't have to worry about the battery running out. When the length of the gun is more than 43.9 ", the partition can be removed, and when it is less than 43.9", the partition can be installed to store bullets, ammunition, bullet boxes, etc. This gun safe can hold 5-6 guns. The package includes a rack with 5 guns and a rack with 6 guns, which can be replaced according to your needs. Let DIOSMIO Gun Safe Keep Your Guns Safe! If this brought up any inconvenience to you, please accept our apology. Any other question is welcome to ask through our excellent customer service.
Our customers possess the right to Open-A-Return on any order received in 30 days. Also, please note that a return on orders over 30 days old will be denied in any occasion.
(It's usually 1, and we put 3 just in case). During these days, no worry shall be concerned, so please sit back and wait for your package along the delightful sunshine and peaceful moonlight. You may keep track of your order at will. If any question or problem is raised during transition, please let us know and we will help till the end. Sometimes things can go wrong no matter what. That you consider as a dissatisfaction, the door to our Customer Service is always widely opened for you. Please let us know how we can help if you needed ANYTHING ANYTIME! Yet please also notice that any collaboration needs time to reach a solution. This process could take up to 14 days, so if the item is needed urgently, we highly recommend you to place another order.
For a presumably defective product received, our customer service will work this out with you in a quick manner. In this case, please describe the issue as clear as possible. Pictures and videos can be extremely helpful and time-saving here.
We wish you understand the pressures here, and our effort will always come to your aid. It's nothing about us. It's all about you. As informed above, the door to our Customer Service is constantly wide-open to you. We will get in touch promptly in 24 hours.
Concerns wouldn't be necessary since we promised to be on your side. You can just enjoy a nice day while waiting for our reply. When there was an accident like business getting busy or filing bankruptcy or people taking a break or getting off work or getting fired or attacked by aliens or something else which delays our response, might us be forgiven. You know, things could happen.
As you are well satisfied, feel free to tell us and all fellow customers your story on Feedback or Ratings while convenient. Yet before you put your fingers down and things get irretrievable, we are always ready to learn our lessons and make things right.
Business is just not easy these days. So, thank you so much for reading such a loooooooooooong description. We sincerely look forward to doing business with you.
Nevertheless, no matter what, please enjoy everyday, keep health, joy, and of course, wealth. We wish you all the best and wait to see you again along the journey of life. This item is in the category "Sporting Goods\Hunting\Gun Storage\Cabinets & Safes". The seller is "idretwsafnt" and is located in this country: US.
This item can be shipped to United States.
For Gun Type: Rifle
Type: Safe
Brand: DIOSMIO
Number of Guns: 6
Material: Steel
Features: Adjustable Shelves,Hardware Included,Shockproof
Locking Mechanism: Combination Lock
Number of Keys: 4
Color: Black
Item Length: 11.8 in
Item Height: 57.1 in
Item Width: 11 in
Product Dimensions: 11\