DIOSMIO 5 Gun Rifle Wall Storage Safe Cabinet Security Digital Lock Quick Access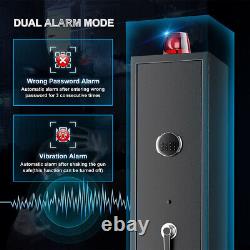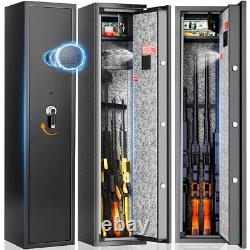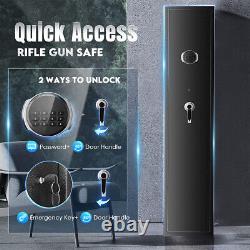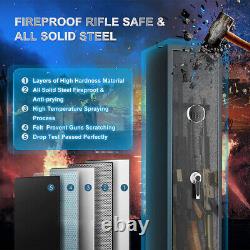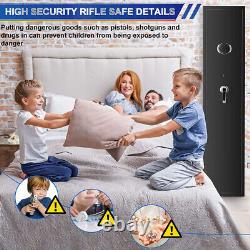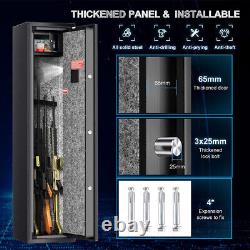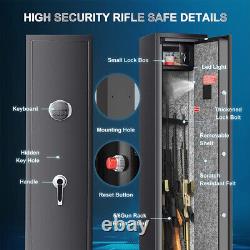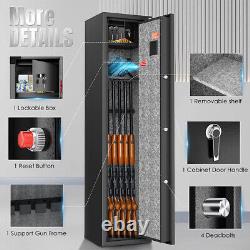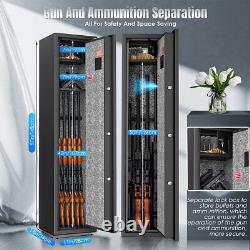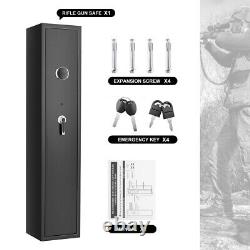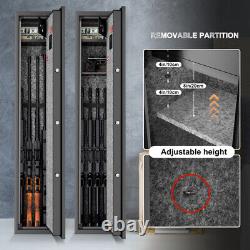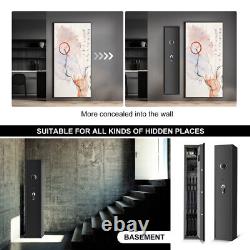 DIOSMIO 5 Gun Rifle Wall Storage Safe Cabinet Security Digital Lock Quick Access. DIOSMIO Electronic Double-door Rifle Gun Safe, Quick Access 5-Gun Large Metal Rifle Gun Security Cabinet with a separate lockbox, solidly built with 100% steel walls, the safe ensures wall-to-wall protection that lasts. It allows you to keep up to 5 rifles, guns, ammo, and magazines stored securely.
Quick access to Digital Gun Safe with Separate Pistol Lock Box? Use the smart numeric keypad to quickly enter your personal password in case of emergency. Code memory function gurantees your code not lost when power runs out. It is good for preventing unwanted visitors from accessing your guns. Equipped with Emergency Key to provide double-layer unlocking guarantee.
The Rifle safe has removable shelves inside so you can fit the shelves to the length of your rifle gun and your own needs. Rifle or shotgun up to 42 inches can be stored with the shelf. Long guns up to 51 inches can be stored without the shelf. And the rifle cabinet is fully carpeted to protect your items from scratches. Built-in LED light will help you easy to check the collection.
The gun safes whole body is design with reinforced solid steel and anti-corrosion coating to sure extremely sturdy and have well block the impact of powerful external forces. The built-in rifle rack provides storage space for up to 5 rifles, 7/8 thick multi-pointed 3 larger steel locking bolts offers physical protection from forced entry secures firearms away from kids and deters theft.
When enter 3 times wrong password will generate "beeps" and locked for 50s. The gun cabinet comes with pre-punched holes in the back and at the bottom for easy attachment and necessary hardware for wall or floor mounting. You are free to fix it anywhere you want with the supplied ground bolts.
More reasonable size setting than similar products, can be placed in home or office for 5 rifles and store pistols, bullets, ammunition, gun accessories and important documents etc. Diosmio Rifle Safes are stored in local warehouses in the United States. Exterior Dimensions(in): 13"W x 11"D x 57H. Rifle Storage: 3-5 rifles (with/without scope). Upgraded package: Thicker carboard box and bumper corners on the package for enhanced durability during transportation.
Removable storage shelf allows you to maximize the use of the space in the rifle safe. Made of 100% high-strength steel and tamper-resistant inner edges. Suitable for installation in various locations in the home/office. Focus on offer Various sizes and series of safes to deliver security that fits with your lifestyle. To provide more secure, more reliable products, We go deep into the factory and participate in the design and production. We keep researching and developing on materials, safety technology. We only wish to present the best to customers. Riddost will be your wisest choice!
Adjustable Height And Removable Storage Shelf. Rifle safe has a separate lock box and a removable storage shelf inside, The lock box can store accessories and valuables in your home or office. This safe box is in high strength and solid structure. Smart technology secures contents away from kids, and others. It also has a separate lock box inside to store small guns and other valuables in your home or office.
The safe will beeps and can't get access by PIN code if wrong access for 3 times. Two ways to open the door.
The door can be opened by keyboard buttons and keys, which is very convenient and safe. So you are free to stick it anywhere you want.
Simply return the item to us in 30 days in an unused condition. But remember to keep the item clean, intact with all labels, or we won't accept your request. As an emerging leader in manufacturing and exporting, we specialize in Business and Industrial Products, Sporting Goods, Pet Products, Home and Garden products for over 5 years. It is our mission to provide innovative products and competitive prices to satisfy you.