Biometric Large Rifle Safe Quick Access 5/ 6 Gun Storage Cabinet with Lock Box USA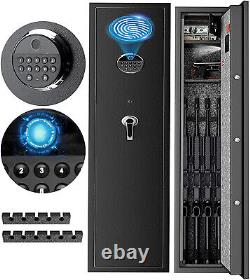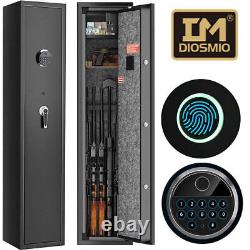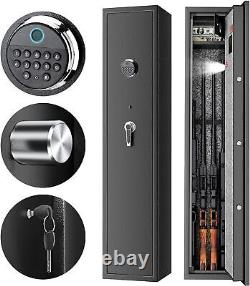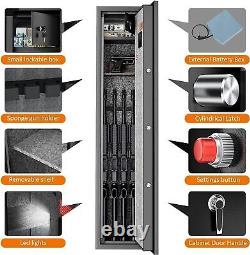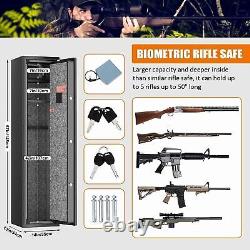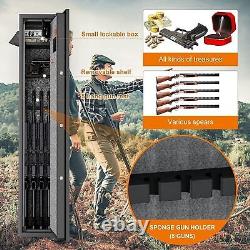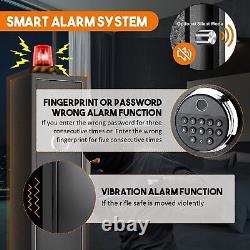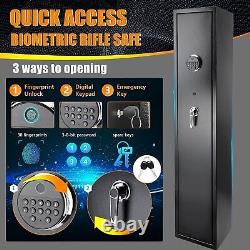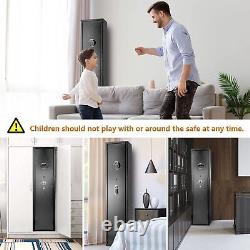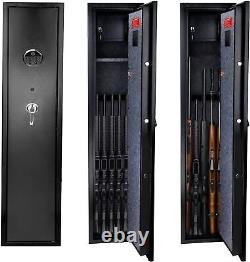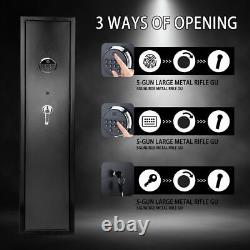 5-6 Biometric Gun Safes for Home Rifle and Pistols, Rifle Safe Shotgun Safe Upgraded Durable Gun Safes for Pistols Gun Safes & Cabinets Clearance with Removable Shelf. Fingerprint Quick Access, Installable-Rifle Safe?
This rifle gun safe can use fingerprints to quickly access the guns, and can also use passwords or emergency keys to enter. Mounting holes are reserved in advance on the back and bottom, which can be installed on the wall, underground, etc.
It can well separate children from dangerous goods such as guns and medicines. Larger and Deeper Safe and Removable Storage Shelf. The outer box size of rifle gun safe is 561211.4, which can hold 6 rifles at most. And you can replace 5 or 6 gun racks according to your needs. When the height of all rifles is less than 44, the storage shelf can be installed for storage Bullets, magazines and other accessories.
There is also a separate small lock box inside. The key of the small lock box is separate from the key of the gun safe, which can be used to put valuables such as pistols.
Reinforced Steel Structure, Whole Body Anti-Prying -Long Gun Safe? DIOSMIO uses reinforced solid steel and anti-corrosion coating to design this rifle safe. The interior uses a reinforced steel structure. The gun safe has a net weight of 30Kg. The shell is extremely sturdy and can well block the impact of powerful external forces. The sealing edge is slightly larger than the inner box edge, perfect overlap, seamless, and the whole body is pry-proof. Wrong Password Alarm, Induction Alarm, Silent Mode -Gun Safe for Home Rifle and Pistols? If you enter the wrong password three times in a row, the gun safe will automatically alarm. If the thief wants to move the rifle safe, the gun safe will sound an inductive alarm. The dual alarm system increases the safety factor and protects the safety of your guns in all directions. If you don't want any sound from the gun cabinet, you can activate the silent mode. Perfect Details and Wide Use -Gun Safe for Rifle?
The additional setting of LED lights is to facilitate you to access guns at night. It is a must for your family's safety. We have a 24-hour online customer service to serve you.
Exterior Dimensions: 12"(w) x 11.4"(d) x 57(h). Locking Type: Biometric, Keyboard, Keys. Gun Storage Number: 6 rifles with/without scope & 3 handguns. Battery Type: 4 X AA Batteries(Package comes without battery).
Large capacity Exterior Dimensions: 13"(w) x 11.4"(d) x 57(h). A seamlessly welded solid steel body. Pre-drilled holes and hardware for floor-mounting Suitable for installation in various locations in the home/office. Safe comes with 2 butts, designed for your personalized needs. One for 6 guns holding and another for 5. Rifle safe has a removable storage shelf inside, the removable storage shelf can be installed if your rifles are less than 43.5 long, it can store your handguns. Optional silent mode and wrong access alam. For stealthier home defense, just activate silent mode. The Rifle Safe emits a warning tone when wrong entery for 5 times. The lockable box (keyed) inside the safe is in big bonus. 5 Security Deadbolt (3 on the side, 1 top and 1 bottom). Its 5 built-in steel deadbolts create a 5 point locking system that resists prying, locks out thieves, and keeps your firearms away from your kids.