Biometric Gun Safe and fireproof for Home Heavy Anti Theft Storage-New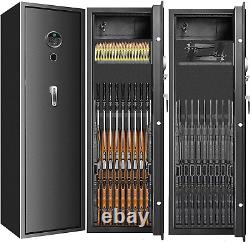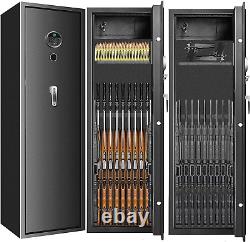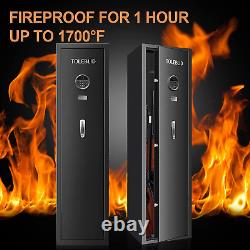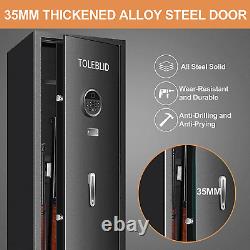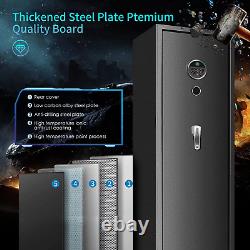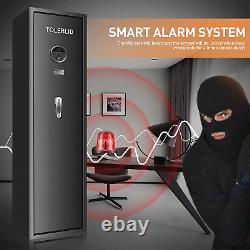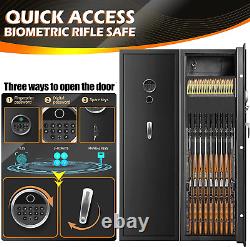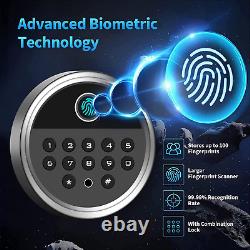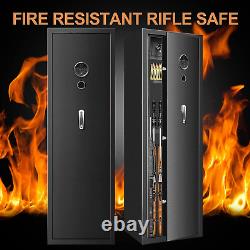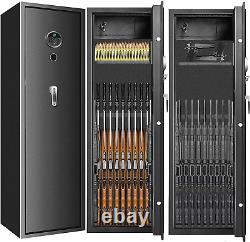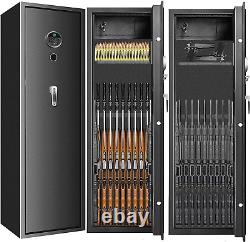 FIREPROOF GUN SAFES FOR RIFLES AND SHOTGUNS. UPGRADED EXTRA LARGE FIREPROOF BIOMETRIC RIFLE SAFE? Interior Dimensions: 60.62"(H) x 21.45"(D) x 18.3(W).
Our gun cabinet can store up to 11 rifles up to 60 long and VERY FIT RIFLES WITH SCOPES. The adjustable shelf is so great that you can store more long rifles. Interior features soft foam barrel rest and carpeted floor can protect your guns.
PERFECT GIFT FOR YOU TO KEEP YOUR AMMO, PISTOLS AND RIFLES AWAY FROM YOUR KIDS AND UNAUTHORIZED PERSONS. 112 POUNDS HEAVY DUTY ANTI-THEFT DESIGN? 78mm ultra-thick alloy pry-resistant steel door, 530mm high-strength solid core lock bolts and pry-resistant concealed hinges, Offering reliable protection for your rifles.
Our gun safe weighs up to 112 pounds, so it's hard for anyone to steal it or you can also fix the safe on the floor or wall with bundled screws to further prevent the risk of theft. Our biometric gun safe uses the better semiconductor fingerprint reader, which is more accurate and faster than ordinary optical fingerprint reader! The stronger solid steel structure makes it impossible for others to use violence to open it from the outside.
Only use the fingerprint or password you set or emergency key, the door will open. Our rifle safe is designed with biometric, keypad and spare keys for 1S quick access and also included an external battery box that you can use if your combo batteries go out and you need to get in the safe. 100 fingerprints can be added.
ANTI-THEFT ALARM SYSTEM AND SILENT MODE? Our rifle safe has anti-theft alarm systems. Enter the wrong password 3 times or wrong fingerprint 5 times, the system will lock and alarm for 1 minute.
If someone tries to move it while it is locked, the alarm will also sound. You can also set it to silent mode if you want. Pre-punched mounting holes in the back and at the bottom of the gun security cabinet allow for easy attachment to the floor or wall (or both) with attached bolts. So you could freely attach it at anywhere you want.
Very fit the small closet space perfectly. Inside there's a small locker cabinet that'll hold two firearms comfortably and some spare ammo.