Biometric Fingerprint Rifle Gun Safe, Gun Storage Cabinet for Rifles and Shotguns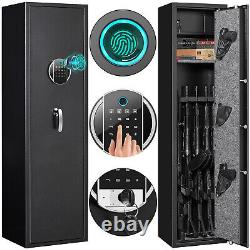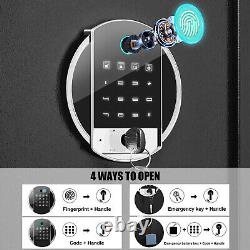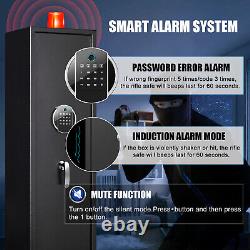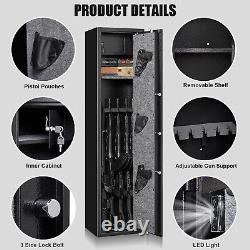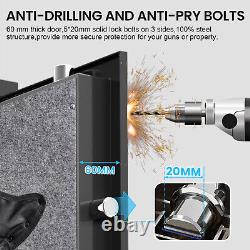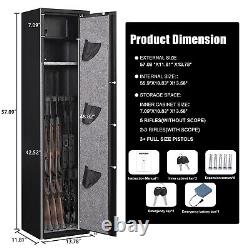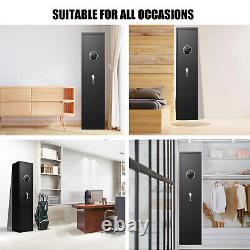 Biometric Fingerprint Rifle Gun Safe, Gun Storage Cabinet for Rifles and Shotguns. SECURE AND STURDY GUN SAFE? This rifle safe is equipped with 3 sides and 5 solid steel locking bolts (20mm diameter), a 60mm thick all-steel door plate, and complete anti-theft and anti-pry capabilities.
It comes with a total of 5 pre-installed holes on the bottom and back, allowing you to securely attach it to the wall or floor as needed, thereby enhancing its anti-theft protection. Larger and deeper rifle gun safe than similar gun safe, can hold handguns and almost 5 rifles up to 50 inches long. The all-steel inner cabinet and the pistol pocket on the door can be convenient for you to put the pistol box cartridge box. External Dimensions: H57.09D11.81W13.78in. Internal dimensions: H55.91D10.83W13.58.
Product Weight:80.5 lb. QUICK ACCESS RIFLE GUN SAFE?
The gun storage cabinet for home rifle and pistols adopts semiconductor fingerprint identification system, 0.1s unlock, Which can be accessed quickly and accurately. Store up to 20 fingerprints, Fully protecting your firearms. BACKLIT DIGITAL TOUCH SCREEN KEYPAD? The gun safe for rifles and shotguns features a digital touch-sensitive keypad, utilizing advanced capacitive sensing technology that provides enhanced sensitivity and precision.
Additionally, the password long gun safe utilizes a backlit keyboard to precisely enter the code in low light conditions. Hide The all-in-one panel design hides the key on the panel and prevents unauthorized access.
ANTI-TAMPERING ALARM SYSTEM AND MUTE MODE? If the wrong fingerprint is inputting five times in a row, the alarm will last for 60 seconds. At the same time, if the home rifle gun safe is moved violently, a vibration alarm will be triggered. During the alarm period, you can enter the password or fingerprint to open the door to cancel the alarm. Unlike other rifles safes, you can turn on mute function if you don't want the safe to make a sound. Fully lined to protect your gun. 1 x rifle gun safe, 2 x spare keys, 2 x inner cabinet keys, 5 x expansion screw, 1 x emergency battery box, 1 x instruction manual. If your key is lost and cannot open your safe, and we will provide lifetime key matching service.