6 Rifle Gun Safe Cabinet Stack Storage Locker Shotgun Firearm Fingerprint 3-In-1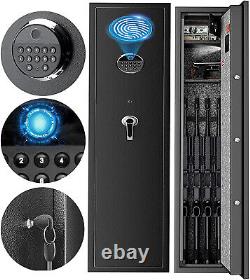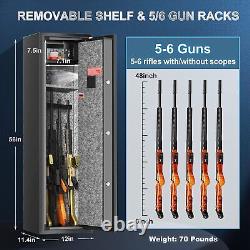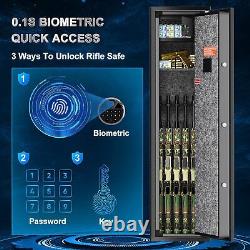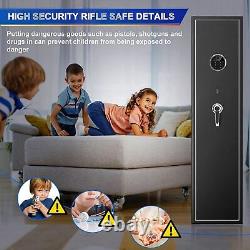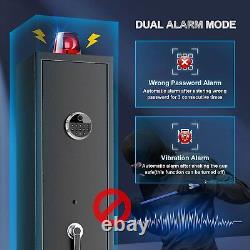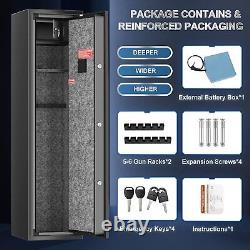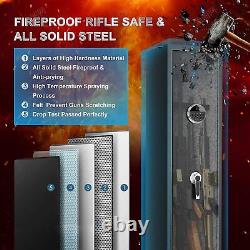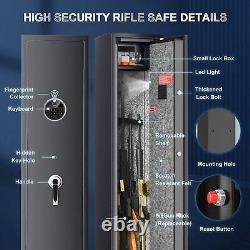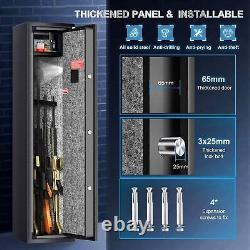 DIOSMIO Biometric Rifle Gun Safe, Quick Access 6-Gun Large Improved Fingerprint Shotgun Security Cabinet for Rifle Shotgun w/o Scopes with Pistol Lock Box, Removable Storage Shelf. THREE WAYS TO UNLOCK, QUICK ACCESS BIOMETRIC RIFLE SAFE. Biometric rifle gun safe stores up to 6 rifles and 2 pistols. Stores up to 30 Fingerprints and quick access in case of emergency. It is good for preventing unwanted visitors or your children from accessing your guns.
Built-in LED lights, can be seen clearly at night without additional power supply. LARGE CAPACITY & SPACIOUS INTERIOR.
The DIOSMIO built-in rifle rack provides storage space for up to 6rifles, with a padded interior floor to prevent scratches on firearms. The DIOSMIO gun cabinet eqipped with digital keypad, lets you program this electronic storage safe with your own 3-8 digit passcode, and 2 included override keys allow for manual locking and unlocking;Smart technology ensures content is away from children and others. A reliable locking mechanism locks the electronic keyboard by creating your own PIN code or using a backup key. This safe is durable with 100% steel walls and tamper-proof inner edges. High-quality 2mm thick steel sealing edge is slightly larger than the inner box edge, perfect overlap, seamless, and the whole body is pry-proof.
The anti-static velvet carpet design can suppress the generation of static electricity, prevent fire and explosion caused by static electricity, and can effectively prevent the malfunction and damage of electronic equipment. This gun safe comes already assembled and has pre-drilled holes it has 4 hole in the back allow for easy attachment to the wall with attached bolts. Easy to install on the ground, closet, garage or anywhere else.
Overall Size: 56''(H) x 12'' (L) x 11.4''(W). Inter Dimensions: 50.1"(H) x 14"(L) x 13''(W). Inter Box: H7"xW13"xD12. Gun Storage Space: 43.5. Open Way: Digital Password & Key Lock.
Battery Type: 4 X AA Batteries(Package comes without battery). 1 x Gun Safe Cabinet(Without Batteries).
1 x Mounting Hardware Set. Fingerprint Quick Access, Installable-Rifle Safe. This rifle gun safe can use fingerprints to quickly access the guns, and can also use passwords or emergency keys to enter.
Mounting holes are reserved in advance on the back and bottom, which can be installed on the wall, underground, etc. It can well separate children from dangerous goods such as guns and medicines. Larger and Deeper Safe and Removable Storage Shelf-Shotgun Safe. The outer box size of DIOSMIO rifle gun safe is 561211.4, which can hold 6 rifles at most. When the height of all rifles is less than 44, the storage shelf can be installed for storage Bullets, magazines and other accessories. There is also a separate small lock box inside.
The key of the small lock box is separate from the key of the gun safe, which can be used to put valuables such as pistols. Reinforced Steel Structure, Whole Body Anti-Prying-Long Gun Safe.
DIOSMIO uses reinforced solid steel and anti-corrosion coating to design this rifle safe. The interior uses a reinforced steel structure. The gun safe has a net weight of 30Kg.
The shell is extremely sturdy and can well block the impact of powerful external forces. The sealing edge is slightly larger than the inner box edge, perfect overlap, seamless, and the whole body is pry-proof. Wrong Password Alarm, Induction Alarm, Silent Mode-Gun Safe for Home Rifle and Pistols.
If you enter the wrong password three times in a row, the gun safe will automatically alarm. If the thief wants to move the rifle safe, the gun safe will sound an inductive alarm. The dual alarm system increases the safety factor and protects the safety of your guns in all directions.
If you don't want any sound from the gun cabinet, you can activate the silent mode. Perfect Details and Wide Use-Gun Safe for Rifle. The additional setting of LED lights is to facilitate you to access guns at night. It is a must for your family's safety.
We have a 24-hour online customer service to serve you. Allows you to keep rifles, guns & ammo stored securely and quickly accessible (2.0 seconds quick access) with fingerprint scan or inputing your personal code(3-8 digit), the smart biometric chip can save 30 different unique fingerprints. Keep the emergency keys in a secure place away from children, and DO NOT store them in the safe.
The rifle safe must be secured to the floor or wall, avoid the rifle sloped to injure the child. Our high quality Biometric Module stores up to 30 fingerprints and is consistent and reliable. Allowing users to access their valuables in 0.1 seconds and has an optional silent mode.
When the door is open, press the setting button. Press your finger on the fingerprint collector three times within 6 seconds. If the prompt tone "drip drip" is played and the LED green light blinks twice, the fingerprint setting is successful. Failed to record fingerprint because.
Weak current situation, solution: change the battery. Finger peeling, solution: replace the finger.