5-6 Gun Safe Rifle, Gun Safes for Home Rifle and Pistols, Gun Cabinet with Priva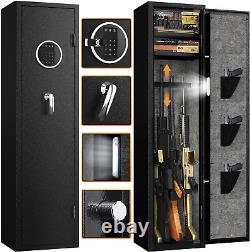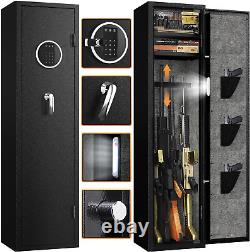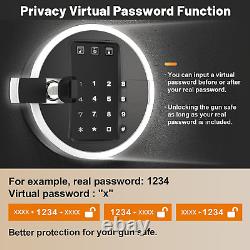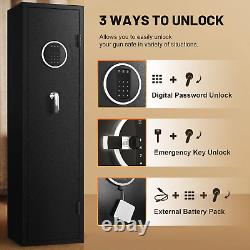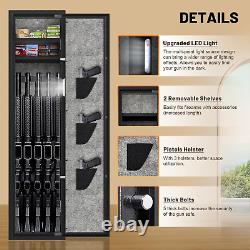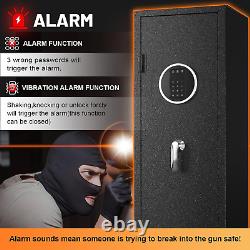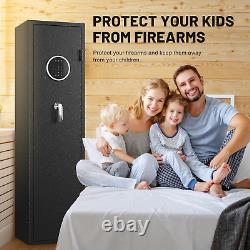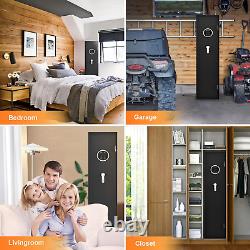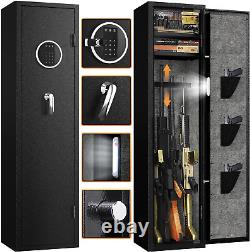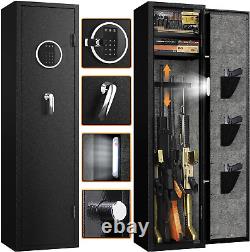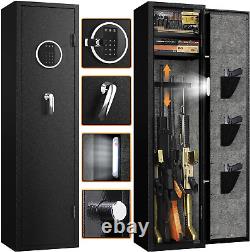 [Privacy Virtual Password Function] Gun safes has privacy virtual password function. You can input a virtual password before or after your real password to open the gun safe for rifles as long as your real password is included in the code. Prevents someone next to you from recording your password while typing.
[Upgraded Panel and LED Lights] LED light with 4-point light source provide a greater range of illumination, which can help you find your guns more quickly in the dark. Upgraded panel with frosted backlight keypad for a technological feel and easy password entry in the dark.
[Removable Shelves & Adjustable Rifle Racks] Gun safe for guns have 2 removable shelves, which can meet the rifles of different lengths. Capable of storing guns up to 56.5. The shelves can store bullets, pistols, tactical headsets, etc. Rifle safe for home has two adjustable gun racks. It can be adjusted up and down to fit both long and short guns.
[Alarm Function and Vibration Alarm Function] Gun safes & cabinets have an alarm function and a vibration alarm function. Entering the wrong combination 3 times will trigger the alarm. When the vibration alarm mode is on, knocking or violent unlocking can trigger the alarm mode. When the alarm is activated it means someone is trying to break into your gun cabinet. [Sturdy and Durable] Gun locker is made of high quality cold rolled steel. 14gauge steel can ensure that the gun safe cannot be easily broken into. Different from other 3 bolts, the gun cabinet is designed with 5 bolts and cannot be opened even if the external hinges are broken.
The full flannel cover minimizes scratches of the firearms while in storage.