3-5 Rifle Gun Safe Shotgun Gun Storage Long Gun Safes for Home Rifle and Pistols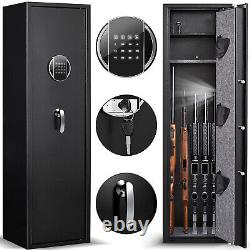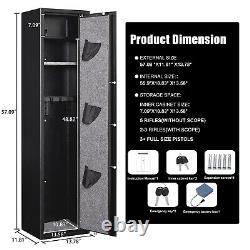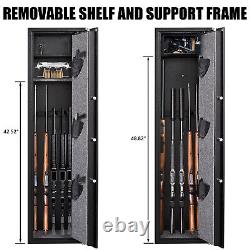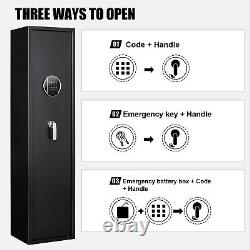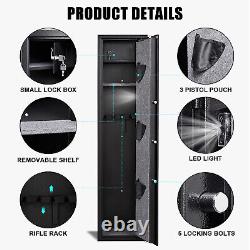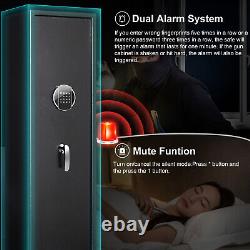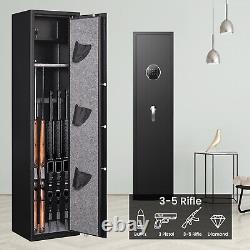 Higher Level of Security For Your Firearms? This heavy duty digital gun safe built with low carbon alloy steel, 5 solid locking bolts on three sides helps prevent tampering.
This gun safe for guns can prevent little ones and unauthorized persons from being accessing your guns. Larger and Deeper Gun Safe for Home Rifles and Pistols? Exterior Dimensions: 11.81"D x 13.78"W x 57.09H. Interior Dimensions: 10.83"D x 13.58"W x 55.91H.
Our rifle safe accommodates for up to 3-5 rifles. It also has a removable shelf inside, If your rifle is less than 43.3 inches long, which can be installed for additional storage space. 3 Pistol pouches are equipped on the gun safe's door for pistols.
Anti-tampering Alarm System and Mute Mode? If the wrong PIN-code is inputting 3 times in a row, our long gun safe will activate the alarm. You can also press then press"9" to activate the vibration alarm mode manually.
If the gunsafe is shaken or hit hard, it will give an alarm immediately. During the alarm period, you can enter the right password to cancel the alarm. If you don't want the gun safe for guns to make a sound, you can press"#"and press"1"to turn on Mute Function. Our gun safe for rifles and shotguns features 3 different methods of securing and accessing your firearms. Password + handle(quick access);?
Emergency key + handle(used for the first time, forgotten password or battery dead);? Emergency battery box + password + handle(battery dead).
Please don't lock the emergency keys in the gun safe. 1 x Rifle Gun Safe, 2 x Emergency Keys, 2 x inner cabinet Keys, 5 x Mounting screws, 1 x Emergency battery box, 1 x Instruction Manual. The shotgun safe comes with pre-punched holes in the back and at the bottom, you can easy mount the clearance gun safes on the wall or floor use necessary hardware. 24/7 Customer Service and Lifetime Key Matching Servce? Our experienced customer service team will respond within 24 hours and solve the problem for you!
Q:How to set the password? The following is the setting step. Als, and press the"#"button to confirm. Repeat the code, then press "#" button to confirm. The RIGHT indicator light on indicates that the new code setting is successful. Q:How to reset the password? A:If you want to reset your password. Press and hold the setting button for 2-3 seconds and hear a long beep of "di, di--", at this. Time, all the setting code and fingerprints are deleted. A:The battery model is AA battery(Excluded in the package).